Menu
At restaurant Witven you come for a tasty lunch, but also for a rich dinner.
Our menu has been specially composed so everyone in your company
can make a delicious choice.
Do you want to eat with a larger group? Take a look at our groupmenus.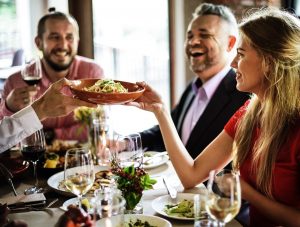 OUR MENU
APPETIZERS
SOUPS
Soup of the day € 4.25
Daily changing fresh soup to the season
Forest mushroom soup € 4.25
A lightly bound soup with garden herbs
Tomato soup € 4.25
Homemade vegetarian soup
COLD
Beef carpaccio € 9.25
With truffle mayonnaise, arugula and Parmesan cheese
Salmon tartare € 8.50
With lemon mayonnaise and pickled cucumber
Shrimp cocktail € 7.50
Norwegian shrimp with cucumber and cocktail sauce
WARM
Baked king prawns € 7.75
In a spicy sherry cream sauce with sundried tomatoes and garlic
SALADES
Goat cheese salad € 7.50
With bacon, nuts and honey dressing
Ceasar salad € 7.75
With chicken, egg, croutons and capers
Salad Caprese € 7.75
Vegetarian salad of lettuce with mozzarella, tomato and basil oil
Tasting of starters € 10.50
For those who can not choose
MAIN DISHES
Served with wedges and a fresh salad
Chicken skewer saté € 10.50
From tender chicken thighs, with homemade satay sauce and Oriental garnish
Pork tenderloin € 15.00
With mushroom sauce and seasonal vegetables
Entrecote black garlic sauce € 19.50
Grilled entrecote with black garlic sauce and green vegetables
Burger Witven € 12.50
Hamburger of 100% beef with lettuce, tomato, mustard, pickle, onion and tomato chutney
Steak € 18.00
Fried steak with a truffle sauce and grilled vegetables
Salmon fillet € 18.75
Baked salmon fillet with spicy Hollandaise sauce and seasonal vegetables
Sliptong € 17.50
Classically baked with butter sauce and parsley, with salad and carrots
Oriental duck € 19.50
Stuffed duck with matching Oriental sauce
Tagliatelle with pesto € 12.50
Vegetarian dish with sun-dried tomatoes, pine nuts and arugula
Our seasonal main courses can be found on the chalk boards.
DESSERTS
Seasonal fruit with sorbet ice cream € 5.50
Hazelnut tart with ice cream € 7.50
Chocolate mousse with ice cream € 8.00
Dame blanche € 6.50
Cheese plate € 8.50
CHILD CARD APPETIZER
Children's tomato soup € 2.75
Children's mushroom soup € 2.75
Ham with melon € 4.50
A fresh piece of melon with artisanal ham
MAIN DISHES
Served with wedges, applesauce and a fresh salad
Chicken skewer € 7.75
Skewer of pork tenderloin € 8.75
Salmon fillet with Hollandaise sauce € 9.50
Crunch € 5.75
Mini-frikadelletjes € 5.75
Children's burger € 6.75
DESSERTS
A treasure box from our ice cream freezer € 1.40
Children ice cream with vanilla ice cream € 3.25